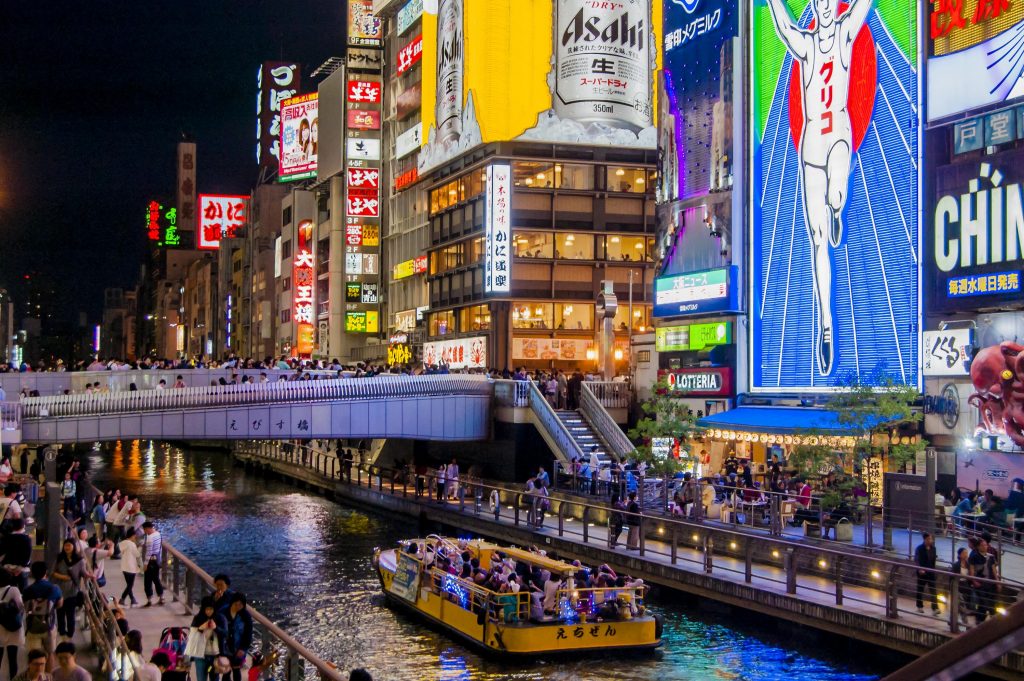 Osaka is Japan's second largest metropolitan area and is the largest city in the Kansai region, with a highly dense population that drives the economy of the region as it has for centuries. It is a historically and culturally important site proximate to the old capital, Kyoto. In the Heian period, merchants, traders and important authoritative figures would come and go to the old capital passing through Osaka, keeping the border officers busy. Merchandise and local businesses flourished in the Edo period, and Osaka was nicknamed "The kitchen of the State (天下の台所)". We can still observe the liveliness of the city today, and Osaka is still renowned for its food, of which the most famous include okonomiyaki, takoyaki, and kushi-katsu, to name a few. The local people of Osaka are generally regarded as friendly, lighthearted, and jocular, with a style of joking that is said to be notably different than the sense of humour in Tokyo. Similar to Tokyo, however, Osaka is also a city that never seems to sleep, and has many exciting features, including an energetic nightlife, local restaurants and izakaya serving up delicious food much loved by its locals, popular shopping districts, museums, parks, famous temples & shrines, an aquarium, and Universal Studios Japan.

It is also worth mentioning the location of Osaka, which is in the centre of the Kansai Region, officially called the Kinki Region or Kinki Chihou (近畿地方), between the cities of Kyoto, Kobe and Nara, which in addition to Osaka are the region's most popular and notable areas. As such, living in Osaka provides easy access to these areas: 30 minutes to famous former capital of Kyoto, 20 minutes to populous city of Kobe and 30 minutes to Japan's first capital city and underrated nugget of history, Nara.

The Kansai area, especially Osaka, is typically contrasted to Kanto in terms of the character of people, food, local dialect, and local manners such as which side to queue when you go on the escalator, which is on the right, unlike the usual left everywhere else. If you are unsure of which city to stay in, try comparing the atmosphere of Tokyo and Osaka — this might give you a better idea of your priorities. Feel free to contact us for more advice!